When you understand why you're working hard you'll know how to approach the game. I think this is really important to get the best out of yourself.
Day in. Day out.
I do one on-court session and one off-court session each day. When I'm off court, I'm in the the gym for a mixture of strength and conditioning, intervals and circuits. I also like to stretch and do yoga. On-court stuff is a mix of solo practice – routines, conditioning games with a partner or match play. Sometimes we have league matches in the evening.
It's important to consider both your mental and physical condition. I think one complements the other. If you're in good physical shape, you'll have good mental strength. It's hard to train mental strength but having that base behind you helps. I think the two are pretty closely related.
I always had a good skill level, good eye for the ball and played a natural game of squash. But at 18-19 I wasn't fit enough. My coach said it would take three hard years of graft at a world-class level which I could then build on. That's been a great challenge, but I'm now there.
With mentality, it's a matter of learning about myself, what works for me and what doesn't. Mentality is the most important, as I think if you're prepared to do the most, put yourself through the most, you'll come out on top. That's a slight generalisation, but learning to be mentally stronger is always an advantage.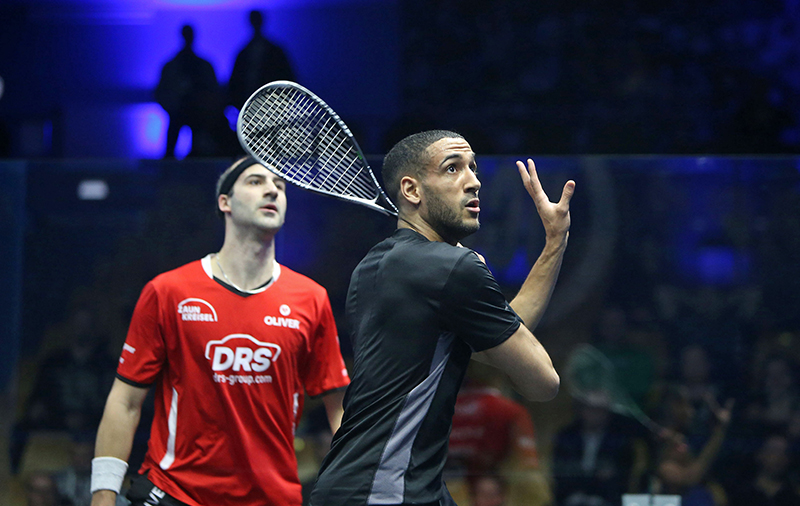 My pro tip
To work hard, but to do it with mental application. When you understand why you're working hard you'll know how to approach the game. I think this is really important to get the best out of yourself.
That awareness can help if you have a bad match, or a bad day's training. It's important to take your mind off of things. If you judge yourself straight after, you can often get things wrong. I give myself time to forget about it, then I reflect on what went wrong and talk to my team to get their observations as they'll have a different opinion. Then we find some middle ground and get back to training. As soon as I have a good week of training my confidence comes back.
Role models can help you too. Growing up, Lewis Hamilton was someone I looked up to because he came from nothing and rose to the top. I admire Anthony Joshua because of his personality, the way he conducts himself and the way people talk about him. I want to be someone who others talk about positively. In the squash world, my role models were Nick Matthew and Amr Shabana (Shabs). I learned a lot from Nick. Shabs was one of the greatest players ever. He made the game look easy. If there's one playing style I could emulate, it would be his.
Staying grounded
When I'm travelling, I try to keep in touch with my friends and family at home and I try to settle into a routine. The quicker you can do that, the easier it is to normalise the travelling. You treat it as if you're working, we go to some amazing places but keeping your work head on, keeps you in a normal mindset.
The New York Tournament of Champions is an event I enjoy going to. New York's one of the coolest cities in the world. The crowd are super passionate and Grand Central Station is an incredible venue. It's amazing to play there.
Away from squash, I like to watch tennis and boxing. I don't really play any other sports, but if I get the chance, I like to get on the tennis court.
To relax, I like to chill at home or find a coffee shop to read in. Coffee and reading are big pastimes. If I'm not doing that, or playing squash I'm socialising with my friends and family.